Year 9 Curriculum Choices - Parents
At KS4, all students will study the core subjects of English (Literature/Language), Maths and Science. Students will also be required to study GCSE RE to broaden their understanding of how philosophy, religion and ethics form the basis of our culture, and support the development of valuable skills that will be useful in multiple subject areas.
Students will then have three subject choices available, which have been grouped into the following curriculum areas to help support a broad and balanced program of study.
Exploring the World: Geography, History, Sociology, French and Spanish.
Creative Expression: Art, Drama, Food and Nutrition, Graphics, Music, Physical Education, Resistant Materials, Textiles
Broadening my Perspectives: Computer Science, French, Business and Enterprise (BTEC), Health and Social Care (BTEC) OR any of the other options if it has not already been selected.
NB. Please note that students cannot study a combination of Graphics, Textiles or Resistant Materials, as these specialisms all fall under the same Design Technology GCSE.
Here is an overview of the process we are following to support students in making their curriculum choices: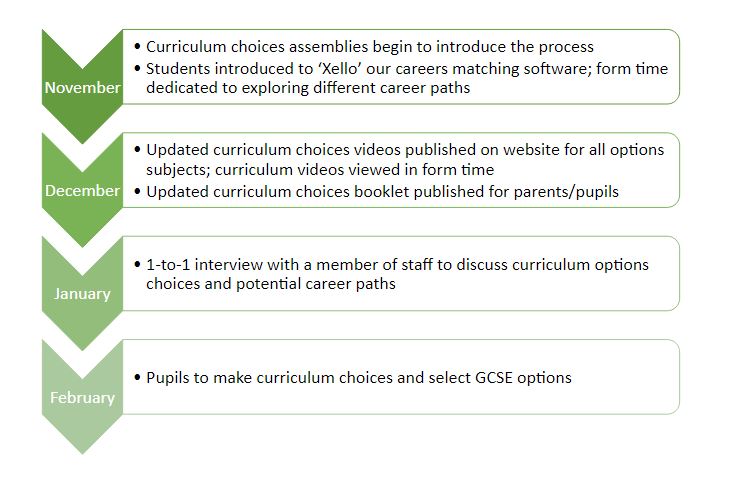 Please click HERE to watch a video about each curriculum option and to download the curriculum choices booklet.